Afterschool for dyslexics Cosenza
School
At the traditional after-school service we work alongside a specialized after-school service for S.L.D. (Specific Learning Disorders) such as dyslexia, dysgraphia, dysorthography, dyscalculia.
Our main objective is to support children and young people in school difficulties so that they improve their ability to study and acquire appropriate techniques and strategies to deal with the difficulties encountered in daily educational activities.
The strength of the project lies in the professionalism of the team that interacts with the children, assisted in their learning and study activities by specialist teachers and psychologists with experience in diagnostic and consulting activities.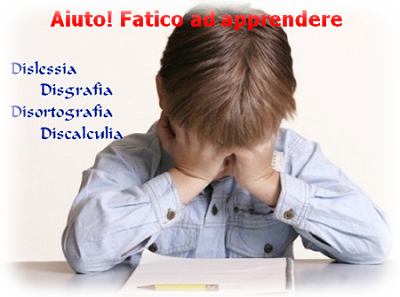 In addition to carrying out homework assignments, the service will also be geared towards carrying out reinforcement activities with the following objectives:
Acquire new methods and study strategies with the support of compensatory instruments (Law No. 170/2010) and new technologies.

Promote a metacognitive attitude with respect to one's own learning strategies.

Acquire greater autonomy in the performance of tasks.

Limit the damage resulting from frustration of failure such as loss of motivation to learning.

The teachers work on an interaction strongly characterized by the specific attention to each individual boy and the psychologists support this relationship by monitoring the children's response and reinforcing their motivation and participation. All this - completed by our almost twenty-year experience in after-school activities - guarantees the pursuit of specific teaching objectives and results through a methodology based primarily on a strong empathetic teacher-student relationship.
The teaching strategies have recourse to integrated teaching, used at our facility in comfortable specially equipped classrooms, with a wide prevalence of the use of information technology.
The team operates through the following methodologies:
use of computer-based compensatory tools such as word processing with speech synthesis;

digital books;

recorders;

tables, tables and summary sheets of formulas;

main educational software to support learning and specialize in creating concept maps;

tutoring experiences considered "humanly rewarding" to learn to be training, to develop a sense of pride and self-fulfillment by improving self-confidence and a sense of adequacy.

Periodic meetings
are set up to compare the
team, parents and school
for comparison and possible definition of the PLP (Personalized Learning Plan).
Applications for after-school membership must be completed and presented directly at our office.
The after-school service runs from September to June, in parallel with the ministerial school calendar.
Our service timetable covers all working days, from Monday to Friday in the afternoon.
For further informations please call
+39098435697 - +393395985766
.