This survey is completely anonymous. When sending the completed form the e-mail address will not be indicated, nor will your other sensitive data be exposed.
You can optionally choose to provide your name and surname in the appropriate box; in this case it will be included in the list of people who have contributed to the improvement of the site. Your data will be processed in full compliance with current legislation on privacy, whose information is provided at the end of this form.
If you choose not to indicate your name, we will only receive your judgment with respect to the request.
Thanks for collaboration.
Contributions to the improvement of the site
---
Maria Assunta Arturi
Nicoletta Caligiuri
Anna Maria Carìstia
Luisa Cinelli
Davide Codespoti
Giulio Crocco
Nadia Fabiano
Assunta Ilaria Fortino
Cristina Giugnatico
Maria Cristina Lorusso
Luigi Maletta
Maria Ottobre
Laura Paradisi
Andrea Pellegrino
Anna Rovito
Elisa G. Savaglio
Elvira Tiesi
Site statistics
---
Pages/year visited (average): 16.000
Pages/day visited (average): 45
Visits/year (average): 4.000
Visits/day (average): 15
Statistics of visits updated to
10/12/2019
Site ratings updated at
10/12/2019
© ETA BETA - Web Development Division - All rights reserved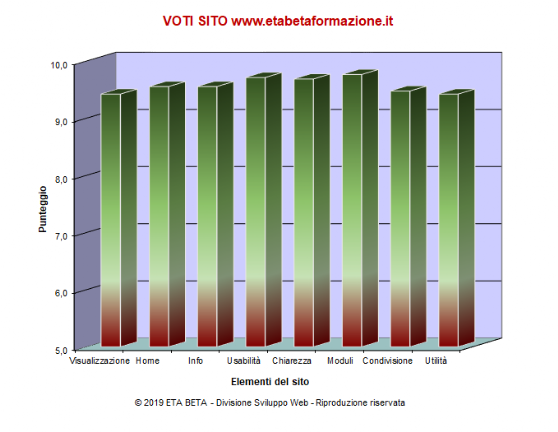 Versions
---
© ETA BETA – Web Development Division
℗ October 2009 (first publication)
Revisions: Jun 2010 (II, III) – Jul 2010 (IV) – Sep 2010 (V)
℗ March 2011 (second version)
Revisions: May 2012 (II) – Aug 2012 (II, III) – Jan 2013 (IV) – Apr 2013 (V) – May 2013 (VI)
℗ January 2014 (third version)
Revisions: Oct 2015 (II) – Apr 2016 (III)
℗ March 2018 (fourth version)
℗ January 2019 (fifth version)
℗ May 2019 (sixth version)
℗ November 2019 (seventh version)
℗ October 2020 (eighth version)